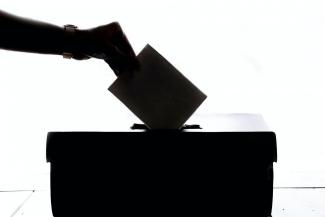 Is Your Portfolio Prepared for the Election?
Good morning and happy Monday.  It's hard to believe that half of October is already gone.  It will be Christmas before you know it.
The one concern hanging over all of our heads is the upcoming election.  It seems that for the last 4-5 presidential election cycles, things have gotten worse and worse.  We are more divided as a nation.  
Funny aside - tell me if you see yourself in this - the most common comment I hear from both the Right and Left is, "If they just saw it my way, we'd all be in agreement."  Compromise requires both sides to move.  None of us want to move!  
And our system to select Presidential candidates seems to be broken.  Whatever happened to the best and the brightest?
Many have been asking me what a contentious election can do to the stock market.  So I wanted to take a few minutes to talk about what could happen in two weeks and how that might affect our long-term plans.
First, a bit of good news:  In almost every Presidential election, there is a big bump in the markets between election day and the end of the year.  Think about it.  We collectively agree with a direction for the country.  So we stand around and pat ourselves on the back and tell ourselves how proud we are of the decision we just made.  The only exception in recent times was 2008.  That was an extraordinary year and re-electing George Washington wouldn't have helped the stock market.
Four Years Ago
Rolling back the clock to 2016, you may recall that on the night of the election, the markets overseas plummeted on the news that Donald Trump might be President.  There was mass global panic.  US stock futures were down by 5% or more during the wee hours of that Wednesday.
By the opening bell on Wall Street, things had calmed down but we were prepared for an ugly day on Wall Street.  By day's-end, the market finished up about 1%.  
That is how the market reacts in the short-term to an unusual election.  It tends to panic.  Because Wall Street tends to panic, in the short-run, about almost anything.  
But that is all short-term.  Who becomes President next January has little effect on the economy as a whole.  And as we've talked many times, the stock market must reflect the overall economy.
What does this mean?  It means that most downward moves are short in nature (usually very short) and normally recover rather quickly.  They are an over-reaction.  (If you recall, the same thing happened earlier in 2016 with the Brexit vote.  After the votes were tallied, Brexit won and the markets actually rose significantly after weeks of horrific losses across the globe.)
There is a chance, if the election is close, that the losing party may contest the results.  This might mean the country hanging in limbo for several weeks.  And this might put downward pressure on the markets.  But eventually a President will be named and we can move on with our self-congratulatory celebrations.
What Is The Strategy?
Some people are trying to prepare for the bad times by moving money out of the markets.  This is dangerous.  It takes impeccable timing and the chances of being wrong are so high.
First, executing this strategy means taking a blind leap in selling.  You don't really know if the market is going to react poorly.  What if you sell and the market doesn't go down?
Assume it does.  This strategy also means taking a second blind leap and buying back in before the market recovers.  Buying during the chaos you are already afraid of.  You know, that time when we are all seemingly wringing our hands watching the TV.  
That's the time you're supposed to buy back in.  Otherwise, you end up buying back in at the same price you sold. . . or worse at even higher prices.
My suggestion is that we hold.  And then make changes if the markets move significantly enough.  A two or three or five percent market correction may not be sufficient to even warrant any trades.  
And if the markets drop considerably, we have an opportunity to buy more shares at discounted prices. In the meantime, we continue to stay invested and participate in any gains that the market experiences between now and Election Day.
 I know this is a stressful time for our country.  If the election is causing you stress, I would first recommend shutting off your TV.  Or start watching old episodes of Andy Griffith or some reality show on the WE channel.  But don't watch the news.  It isn't helping.
If that doesn't work, pick up the phone and call.  That's what we are here for.  If we can walk you through your thought process you can make a smart, well-thought-out decision regarding your portfolio instead of reacting to emotion.  
Thanks for your time today.  As always, if you have any questions on your finances, don't hesitate to pick up the phone or just reply to this email.  Have a wonderful Monday and I look forward to talking with you very soon.
Thanks for taking the time to read our blog this week. If you have any questions or concerns, please don't hesitate to email us at dennis@successfulmoney.com or call us at (800) 453-3209.  If you don't already have a copy of my book, The Biggest Financial Mistakes Retirees Make, you can order it on Amazon or click here and we will get a copy out to you, free of charge!  
To receive blog updates via email, click here.
---
This blog is the opinion of Successful Money Strategies, Inc. and is provided for informational purposes only and is not intended to provide any investment advice or service.  Statistics and other figures are accurate at the time of original publishing.  Any advice herein should not be acted upon without obtaining specific advice from a licensed professional regarding the readers own situation or concerns.  Always count your change.