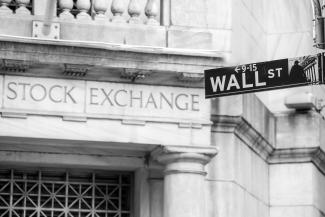 What The Heck Is The Dow Jones Industrial Average?
There is no more known stock market index than the Dow Jones Industrial Average.  In a few months, "the Dow" or "DJIA" or however you want to refer to it, will turn 125 years old.
Everyone quotes the index.  They know it's hovering around 30,000 right now.  And they may remember a time when it crossed 10,000 and 5,000 and maybe even 1,000.  (That was back in 1982, in case you were wondering.)  Yet few actually understand how it works.  
The Dow is currently comprised of 30 companies hand-picked by Dow Jones, the publisher of the Wall Street Journal.  When I say hand-picked, I truly mean it.  These are not the largest companies or the ones with the most employees or revenue.  They are companies that Dow Jones has decided are representative of our current industrial economy.
The index currently includes such titans as Visa, Caterpillar, 3M, Coca-Cola, Nike, Procter & Gamble, Disney, and Walmart.
In the last two decades, the flavor of the index has changed from its roots to a more tech-focused pool of stocks.  Today, companies such as Apple, Intel, Microsoft, Cisco, Verizon, and Salesforce.com dominate the index.  Technology and computers account for more than 25% of the index.  One could argue that Walmart, Visa, Amex and Disney, while not tech companies, per se, are most definitely deriving significant revenue from technology.
But where did this index come from?  How did it come to be and how different is it from its start?
The Dow Jones Industrial Average was created in 1896 and at inception, contained just twelve companies.  It was a follow-up to the Dow Jones Transportation Index created about a decade earlier.  
We forget how important and influential railroads were in the latter half of the 19th century.  The railroads changed this country the way the microprocessor did one hundred years later.  And the railroad industry was incredibly powerful as well.
While the roots of the word can be found in merry old England, the first American use of the term "lobbyist" was coined by President Ulysses S. Grant.  Daily, he would walk from the White House to the hotel across the street for lunch.  In the lobby were literally dozens of railroad executives who would try to "lobby" President Grant on their latest proposals.  
Railroads were a game-changer 150 years ago.  They didn't just move people and goods from point-A to point-B.  They revolutionized our manufacturing.  For instance, coal and other raw materials could be brought to a steel mill which would then smelt and roll raw steel, loading it on other rail cars for delivery to a manufacturing facility elsewhere.  There, a final product was produced from the raw steel and, yet again, loaded on a rail car for delivery across the developing country.  
This happened over and over again in a myriad of industries.  Textiles.  Farming.  Lumber.  Without the railroads, all economics was local.
Despite their influential nature, railroads did not comprise a large portion of the original Dow Jones Industrial Average.  Just one railroad - Tennessee Coal Iron & Railroad was added to the index.  It seems Dow Jones wanted to keep the railroad stocks in the transportation index.
The original DJIA also contained an electric holding company, a leather tannery and American Sugar, the precursor to Domino Sugar.  It included American Tobacco, which is now, after numerous mergers and breakups, part of the RJ Reynolds parent company.  Among its claims to fame, American Tobacco was the maker of Lucky Strike cigarettes - the most popular brand of cigarettes during the Great Depression and World War II.
Other companies included US Rubber, which became Uniroyal, now part of Michelin; a lead smelting company, as well as a distilling and cattle feed firm.
A distillery and cattle feed company!  That sounds exciting!  
It's hard to imagine most of these companies setting the world on fire in 2020.  But they were cutting-edge of our national economy at the end of the 19th century.
There are 2 separate gas companies listed in the original index.  Outside of electricity, it is the only industry to contain more than one representative company.
Yet what is glaringly missing at that time is Standard Oil - the world's largest petroleum company at the time.  For one of the largest companies in the world, it seems conspicuously absent.  
It may be that the stock was so closely held as to not trade officially on the New York Stock Exchange.  Or it may be that Standard Oil was the target of anti-trust legislation even as far back as 1896.  At one point, Standard Oil controlled over 90% of the oil distillation business in the US.  Laws were passed specifically to stop Standard Oil from controlling the industry single-handedly.
In 1911, Standard Oil was forced to break up into 34 separate companies.  We can still see those parts over the last 110 years in companies such as Mobil, Chevron, Esso, Sohio, Conoco, Marathon, Amoco, ARCO and others.  Some of these companies have been part of the Dow over the years despite Standard Oil never being one of them.   
In 2018, the last of the original companies, General Electric, was removed from the index.  It's hard to imagine today's GE compared to the company in 1896.  Back then it was known as Edison's General Electric.  Yes, that Edison.  And electricity was its business.  Today, GE is a multinational conglomerate making, among many other things,  airplane engines, helicopter machine guns, commercial loans, wind turbines and. . . electricity.  Today it is more general than electric.
In the intervening 125 years, the Dow Jones Industrial Average has changed considerably.  Literally dozens of companies have been added or deleted.  Some, like GE, were added and subtracted from the average more than once.  
But it is a time capsule of what was important in our country for over a century.  From raw materials to the rise of the automobile to high finance to the tech explosion, it reflects who we are and where we are going as a nation.  Who knows what companies will be part of it in another five or ten years.
Thanks for taking the time to read our blog this week. If you have any questions or concerns, please don't hesitate to email us at dennis@successfulmoney.com or call us at (800) 453-3209.  If you don't already have a copy of my book, The Biggest Financial Mistakes Retirees Make, you can order it on Amazon or click here and we will get a copy out to you, free of charge!  
To receive blog updates via email, click here.
---
This blog is the opinion of Successful Money Strategies, Inc. and is provided for informational purposes only and is not intended to provide any investment advice or service.  Statistics and other figures are accurate at the time of original publishing.  Any advice herein should not be acted upon without obtaining specific advice from a licensed professional regarding the readers own situation or concerns.  Always count your change.