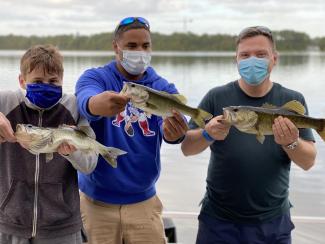 Third Quarter Commentary 2020
This is definitely a year we would all like to forget.  The changes we've had to make to avoid this virus are just staggering.  Above is a picture of me and my boys during vacation last week.  Who would have thought you'd need a mask to go fishing?!?!?!
Market Update
After a fast rising July and August, the market pulled back in September.  This is something we've been talking about in our emails the entire quarter.  The stock market rose more on hope and dreams and than on economic growth.  
The market must seek a balance with the economy.  And the economy does not move to the market.  The market adjusts to the economy.  The markets are much more fairly valued now at the beginning of October than they were at the end of August.
Gyrations haven't been limited to just the stock market - they've invaded other markets as well.  Within the quarter, gasoline and oil futures fell, then rose, then fell again.  Thankfully the moves were within weeks of each other so we didn't see major effects at the pump.  But if you were a gasoline trader in New York or Chicago, you had a very busy Summer.
Precious metals also saw turbulence.  Gold, which had climbed over $2,000 an ounce throughout the COVID crisis, fell about 8% in less than a week's time.  Gold and other metal prices are still high, but not near their all-time highs seen earlier this quarter.
Finally, building materials are, in the vernacular, absolutely bonkers.  Have you visited a Lowe's or Home Depot in the last four or five months?  People are not spending their discretionary income on eating out or vacation.  As such, consumers have channeled that money into home improvement.  More demand means higher prices for lumber and other building materials.  I'd hate to be a house builder right now.  Costs are significantly higher and the wait-times for materials are extended.  How can you make money doing that?
General Observations
In addition to the somewhat boring market data, there are some amazing statistics out there currently.  And, as you know, I love numbers.  Analyzing them.  And sharing the conclusions.  
The Lancet recently published a study that found that "less than 10%" of dialysis patients in the US tested positive for the Coronavirus antibodies.  Less than 10% still means close to 10%.  If it were less than 5%, they'd say less than 5%.
What does this mean for us?  Based on testing, only about 2% of the population has had COVID-19.  If the random sampling is correct, 4-5 times as many people have had the Coronavirus without symptoms than we previously thought.   The Lancet further went on to say their findings in "hot spots" (such as  New York City, Miami, Phoenix) showed significantly higher rates of infection.  (Another study in New York maternity wards this past April found that 15% of delivering mothers tested positive for the Coronavirus antibodies.)
There are a few things we may be able to draw from this.  First, this virus may not be as bad as we've been told.  If less than 1 out of 5 has any sort of symptoms, we may be overblowing this.  Maybe.
Second, we are far from herd immunity.  Six months for a 10% infection rate means it will take at least 3 years to reach herd immunity.  I think I'd rather have a vaccine.  
And third, this study illustrates that we still don't have great data on this virus.  Every expert from the CDC to some guy on CNN to every politician is talking about facts when we have so few facts.  
The virus may be more contagious than we thought.  And maybe it isn't.  This study is truly a start to our analysis but it is far from the end.  We're still wandering around in the dark.  It will be years before we can fully understand COVID-19.
Another interesting statistic crossed my desk this week.  According to the Wall Street Journal, applications for new businesses are increasing at a record pace.
You might recall we discussed this in previous blogs and emails.  We can't go back to the normal we saw back in January.  It is gone forever.  We are forever changed.
That does not mean that we are economically doomed.  As a species, we are incredibly equipped to overcome adversity.  And there are a number of businesses currently looking to capitalize on the changes that COVID-19 has created.
Will all or most of these businesses succeed?  No.  In fact, most businesses that open never succeed.  But hidden inside of those failures is the next Apple or Uber or Netflix and will employ thousands upon thousands of Americans.
Thank you for your trust and support this quarter.  Anna and I are very lucky to have the opportunity to help you in your financial journey.  If you have any questions or just need some advice, do not hesitate.  Pick up the phone or drop me an email.  We are always here to help.
Thanks for taking the time to read our blog this week. If you have any questions or concerns, please don't hesitate to email us at dennis@successfulmoney.com or call us at (800) 453-3209.  If you don't already have a copy of my book, The Biggest Financial Mistakes Retirees Make, you can order it on Amazon or click here and we will get a copy out to you, free of charge!  
To receive blog updates via email, click here.
---
This blog is the opinion of Successful Money Strategies, Inc. and is provided for informational purposes only and is not intended to provide any investment advice or service.  Statistics and other figures are accurate at the time of original publishing.  Any advice herein should not be acted upon without obtaining specific advice from a licensed professional regarding the readers own situation or concerns.  Always count your change.