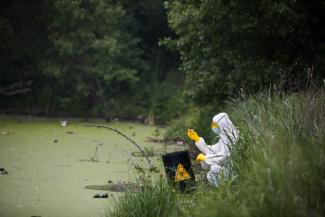 Golf, Hazardous Waste and Your Investments!
Sometimes things that seem normal aren't.  Or perhaps we've convinced ourselves that they are normal when they clearly are not.
About 25 years ago, I was playing golf at the New Bedford municipal golf course, Whaling City.  It's a terrible course.  It's a bit hilly.  It has very little interesting terrain.  It's very wide and ridiculously long.  Unless you can play like John Daly (that overweight blond guy that crushes the ball all the time), it's not a fun course.
At the time, the operators of the course were spending as little money as possible on maintenance.  The rumor was that this was to be the location of the Wampanoag Indian Casino in just a few short years.  There was no reason to dump any money into the course if it was going to be bulldozed to make way for a Foxwoods-sized entertainment complex.
As such, the course received minimal water.  Mowing was done on an as desperately needed basis.  If not invited by a colleague of mine, I'd have never bothered playing.
On the 5th hole, there is a water hazard.  It sits in front of the tee box on a long par-4.  It may be the hardest hole on the course for your average golfer.   
Most duffers hate water.   So putting water at the tee makes many folks either take a very short club to hit over the water or inevitably overswing their driver and skull their shot right into the middle of this small pond.
On this day, we did not have to play the water hazard.  A temporary tee box was set up on the far side of the water.
Why?
Well, next door to the course was a Superfund site.  You remember Superfund sites, right?  These are areas so toxic in nature that the federal government set aside funds to clean them up.
As we drove our carts past the original tee box and down the cart path to the temporary tee, we watched men in full hazmat suits and respirators working knee-deep in the water.
And off we went.  We teed off 70 yards closer to the green and probably saved at least a stroke for the day.
Hold up.  Did you just read that???  Are you shocked or are you hysterically laughing?
At the time, I was in the latter group.  I probably hit a poor tee shot because I was laughing so hard.
Here we were playing golf next to a giant puddle of hazardous waste.  It was so bad that the folks working on it were in full protective gear!
By the looks of the course, everyone else found this normal.  I eventually vacillated between laughing and wondering if I was going to have a higher-than-normal chance of developing cancer later in life.
Our finances are like that sometimes.  As we sit in front of a possible recession in the next 12-24 months, I think back to 2001 and 2008.  
It seemed perfectly normal in the 1990s to create dozens of tech companies that, it turns out, really didn't do or make or develop anything.  In 2000, it was said on several occasions, "A company doesn't need to make money to make money."  
Yes.  That's the definition of making money. . . . making money!
Fast forward to 2007 -  many people believed that you could buy a house in one year, wait 2 years and sell it for 40% more.  I recall talking to one woman who lived in Las Vegas.  She was convinced that in 8-10 years, she could sell her house and retire because it was appreciating so fast.
I think that many people expected a pull-back in real estate.  I don't believe anyone truly saw how deluded we were.
I would caution against this during this time as well.  The Federal Reserve's main concern in December of 2022 is inflation.  Yet the previous five months of inflation data shows. . . no inflation.
Investors continue to wring their hands about a recession.  Yet GDP continues to rise at a healthy clip.  What's even stranger is when GDP does better, they are more convinced the recession is closer at hand.
Your best bet is to stick to the basics.  Watch your metrics.  Mine include inflation data, employment, corporate profits, and GDP.  I also keep a close eye on housing.  
(Aside:  I read recently that housing sales were down by a third year-over-year in November.  Interest rates are way up.  Yet housing prices have not really budged.  I wonder if real estate investors are in the same delusional state they were in 2008.)
And stay diversified!  Just when you think you should zig is usually when you should zag.  Staying diversified can save you from yourself.
What will 2023 bring?  No one knows for sure.  We could be in for one of the best markets we've seen in recent years.  Or we could finally see that recession that everyone is wringing their hands about.  We just don't know.
To receive blog updates via email, click here.
---
This blog is the opinion of Successful Money Strategies, Inc. and is provided for informational purposes only and is not intended to provide any investment advice or service.  Statistics and other figures are accurate at the time of original publishing.  Any advice herein should not be acted upon without obtaining specific advice from a licensed professional regarding the reader's own situation or concerns.  Always count your change.